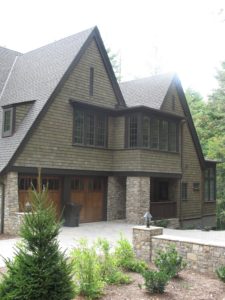 Pre-finished Cedar Siding is in popular demand these days for its durability, its look, variety of profiles and applications!
Bevel Pre-finished Cedar Siding is primarily used for exterior cladding for its weather protection and architectural style.
Board and Batten Pre-finished Cedar Siding  is also used for an exterior siding due to the rough, not smooth finish. The board and battens can be used to depict a cottage style depending upon the desired look you are seeking to achieve.
Tongue and Groove Pre-finished Cedar Siding  is used for its versatility. It can be installed horizontally, vertically or diagonally for a distinctively different look. Board and Batten or Bevel Siding, Tongue and Groove Pre-finished Cedar Siding comes in both a rough or smooth face.
Paneling/Channel Cedar Siding  also offers both the rough or smooth face along with the option of knots, small or large for a more rustic look. Clear with no knots. Gives a shadow line appearance and allows for dimensional movement as well as excellent weather protection.
Pre-finished Cedar Trim Boards  are easy to install and used for corner boards, fascia, skirting, window and door trim.
Pre-finished Cedar Shingle Panels come in a variety of individual profiles, each offering a unique look to your home or business. These profiles include –

Keyway Style

– Vertical spacing between shingles

Contemporary

– Set tight to appear smooth and somewhat seamless

Even Butt

– Offering a Symmetrical line

Staggered Butt

– Not Even – Staggered

Mitered Corners

– Offering a finished touch to any Cedar installation
 Cedar Individual Sidewall Shingles/Shakes
To view the profiles and/or acquire additional information regarding pre-finished Cedar Shingles, Panels, Corners, please visit: Cedar Shingle Profiles.
Pre-finishing Cedar Siding, Panels, Trim boards is recommended by the Western Red Cedar Association. The benefit to pre-finishing also strengthens the integrity of the wood, maintaining its structure. As with all exterior siding, appropriate maintenance is required.