Pre-finished aka Faux Wood Siding
Have you ever driven by a house and thought – Wow?! How did they create this contemporary look? What's that exterior made of? Chances are this home was designed with Fiber Cement Panels or a very creative Composite Exterior Siding such as Boral or it could be wood – Cedar!
Fiber Cement board was developed in the 80's by James Hardie as a replacement for asbestos cement board. Fiber Cement board is a mixture of sand, cement and cellulose and can be manufactured as lap siding, trim and panels with a variety of textures from smooth finishes to stucco. Today there are other manufacturers such as Allura and Nichiha.
With the development of the various types of Siding profiles and sizes, the Designers and Architects have created some very contemporary exteriors.
For those whose design call for fiber cement panels, metal strips are installed to seal the seams for a more contemporary look
This Designer chose pre-finished Fiber Cement Panels in a Cedar finish. Notice the metal trim used to seal the panels for a very clean, contemporary look!
Other contemporary exterior siding designers could choose from a variety of material combinations such as stone, concrete and wood, or a composite siding like Boral Tru-Exterior Siding.
The home pictured below was built using pre-finished Boral exterior siding with a custom color to resemble a 'Whitewash' look. The planks were installed both horizontally and vertically for a very unique design. Notice there's no trim! The corners are very clean! And the use of the frosted glass for the garage door accentuates this choice of exterior siding and color to create interest and a wow factor!
A bit about Boral Tru-Exterior Siding – Boral was created around 2010 of 70% recycled materials comprised of a blend of polymer chemistry and ash to create siding and trim pieces ideal for moisture prone climates as it is virtually moisture free!
This Designer chose to use real wood – Cedar horizontally and lots of glass! Beautiful!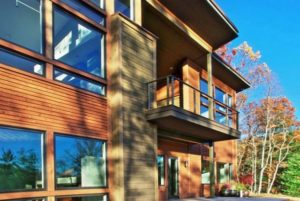 Contemporary Exteriors can be attained using Fiber Cement, Cedar, Composite and Metal and a host of other materials. Pre-finishing your materials should you choose, Fiber Cement, Composite or Wood can be easily ordered by an expert pre-finisher. If you're looking for something unique, different in your home design and you desire quality products – do your homework on this before you choose!