Why choose Pre-finished Fiber Cement Siding to replace Old Siding
Ready to remodel instead of replacing your home? Is your current exterior siding showing signs of age? Have you thought about remodeling? What would you choose to remodel with? Ever thought of fiber cement siding? Pre-finished Fiber Cement Exterior Siding comes in a variety of material options. For example, you could choose:
Fiber Cement (James Hardie, Allura or Nichiha)
Composite (LP Smartside, Boral)
Wood (Eastern White Pine, Southern Yellow Pine, Cedar or Cypress)
Or a COMBINATION of these
Why remodel your exterior siding?  If your current siding is showing signs of wear, or dated, the current siding may be allowing air  to flow between the siding which often occurs with  vinyl siding installations. These conditions could easily be taxing on your heating and air-conditioning systems.
Let's look at Fiber Cement Siding options.
Prefinished Fiber Cement siding has become a popular siding choice for many homeowners and business owners for these reasons. Fiber Cement Siding is available in a range of profiles. Pre-finished coatings/paintings  are highly recommended.
Fiber Cement Exterior Siding  is made of a combination of polymers containing natural/synthetic polymers including calcium/acrylic fibers, lime stone powder, kraft pulp from cardboard waste.  This choice for Exterior Siding is more eco-friendly. Other benefits, fiber cement siding prevents insects, termites and carpenter bees from damaging the exterior of your home. There's also less maintenance to perform with Fiber Cement Siding. Lastly, the material warranty ranges from 30-50 years depending upon the manufacturer.
Tips for selecting the Fiber Cement manufacturer you wish to use?
First, choose the style of Fiber Cement you would like to use. Lap? Shake? Large panels for either a modern look or board and batten?
Research your manufacturer. All manufacturers list warranty and installation guidelines to allow this process to flow seamlessly.
Request a sample of the product and profile you prefer in the color you desire.
Sample may come from the manufacturer or from a Pre-finisher.
Ask you Builder questions regarding their knowledge of fiber cement siding.
Many manufacturers recommend proprietary stains and techniques that are unique to their method of pre-finishing.
If you would like to see a home or business completed with your choice of material, ask for a list of homes to drive by.
Tips regarding installation crews: – I recommend meeting with three different crews. Verify their references. Ask to see their latest installation and one or two older ones.
Other benefits of remodeling verses building new:
Replacing rotting wood, asbestos or vinyl siding with Fiber Cement is a healthy choice for the environment and increases the value of your home.
Other benefits of Prefinished Fiber Cement Siding :
Termite Resistant
Non-toxic to inhabitants
Resistant to wind, hail, rain, snow and sun
Rot resistant
Will not melt with exposure to heat source
Environmentally-friendly
Non-combustible
Low-maintenance
Warranties (depending on the brand) range from 25 – 50 years
Cost for Pre-finished Fiber Cement Siding: Average cost for material, finish and installation is $6 to $12 per square foot.
Below you will see a before and after that depicts a very good example of what one can achieve with the right product, color selection, manufacturer and installation crew: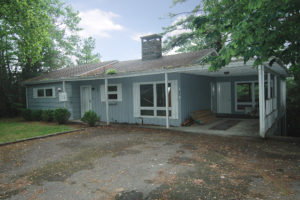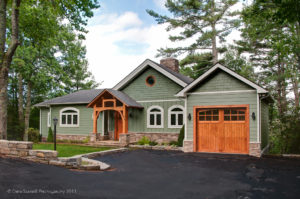 For more information regarding our prefinished Fiber Cement Siding, contact us through our website or call us at (800) 948-4349